Congratulations to the Corona Angels, our 7th Annual 18U Champions Cup Champions. As I watched the last games being played, I realized that the Angels and the American Athletics have also been a big part of the Cup behind the scenes. Each organization has from inception supported all the teams playing. Marty Tyson's group has staffed and sold food from the Harvard Snack Bar and the American Athletics have taken the harder job of staffing both Alton and Lower Peters. It was rewarding to see those programs meet in the finals. My thanks to both organizations for their tireless work over the years.
Our 16U Champions were TNL with Corona Angels as runner up. Congratulations to both of those teams.
The coaches dinner on Tuesday night for the 18U/Gold was a very exciting and motivational get together due in large to Coach Kelly Inouye-Perez. The 2010 WCWS Champions Head Coach's inspiring topic was "COMPETITIVE EXCELLENCE" and captivated us from beginning to end. Thank you so much, Coach Inouye-Perez
I would be remiss if I failed to mention the City of Irvine and especially Mr. Ed Crofts and Sandy Feicht. Without their help and support, the Champion's Cup would be just another tournament. Irvine provides professional staff at each of the four locations and ensures that the all of the fields are groomed, chalked and watered, and the facilities clean.

I want to thank the following people and organizations that worked above and beyond the call of duty to make this year's 16 & 18 Champions Cup the best ever:

16U Harvard Park – Jan Franscell and JSerra Softball

18U Bill Barber -- Lena Lovelace and the Minors Gold teams

18U Harvard Park - Chris Green and the Corona Angeles

18U Alton Park- Vicki Blanco, Dan Sotelo and the American Athletics 16U Team

18U Lower Peters - David Guzman, Isaac Delgadillo - American Athletics SGV

From the City of Irvine Community Services Progam-Ed Crofts, Sandy Feicht, Teresa Frei, Collum McLaughlin, Kevin Markham, Ross Moodie, Matt Kucera, Brian Fishel

Officer Mike Frei-Irvine P.D. (FTO and Explorer Scout program adviser)- traffic control.

Also a special thanks to some of the hardworking green and blue shirts that took care of the fields and facility maintenance: Marc Kibbe, Rich Brannon, Paul Lemos, Lauren O'Hara, and Steven Stewart are just a few that kept the fields playable and on time.

We also wish to express thanks to our 16U Umpire in Chiefs – Jim Sanderson and 18U/Gold – Sue Sawyer and their exceptional cadre of ASA certified umpires.

Lastly I want to thank each of our participating teams and all college coaches in attendance.

Speaking of colleges, Travel Coaches, please remind your senior players to forward applications for our scholarship program. All monies received (after expenses) goes into this fund – TAKE ADVANTAGE OF IT!

On behalf of Susan Bollinger, Assist. Tournament Director, Phil Gutierrez, SoCal ASA State Association Commissioner, Mike Schuck, SoCal ASA State JO Commissioner – Travel Ball, and Lorrie Ivie, SoCal Director of Players Association, THANK YOU AND SEE YOU NEXT YEAR.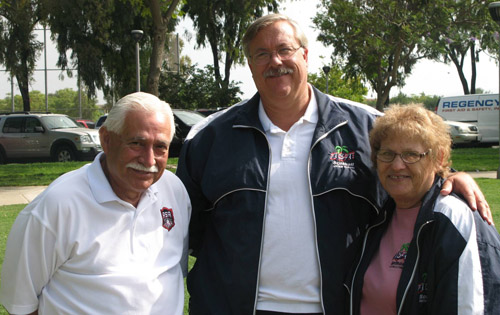 Left to right, Phil Gutierrez, Mike Schuck, Lorrie Ivie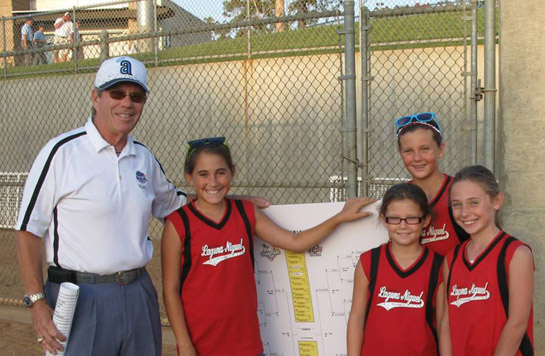 Left to right Jim Bollinger Tournament Director Nikki Pica, Kit Yellin, El Yellin, Emily George
Congratulations to the Corona Angels-Marty as the winner of the 2010 Champions Cup!
July 16, 2010 7:00 p.m.
check Live Results 18U pools and bracket to see when you play.
Seeding should be done by 10:30 p.m. if everyone turns in their scorecards on time!!!
July 15, 2010 10:30 a.m.
DUE TO THE LIMITED AMOUNT OF PARKING AVAILABLE AT BILL BARBER ..........BASED ON HAVING TO PARK AT LOT 3 .........., WE ARE REQUESTING YOUR COOPERATION IN NOT PARKING ANY RV'S OR MOTORHOMES IN LOT 3 AS IT IS TAKING PRECIOUS SPACE. THERE IS A POLICE VARIANCE ALLOWED THAT ... CARS .... CAN PARK ON THE STREET ON HARVARD ...PARK SIDE OF THE STREET FROM SAN JUAN TO CIVIC PLAZA ... SORRY FOR THE INCONVENIENCE
JIM BOLLINGER
-----------------------------------------

We are proud to present Kelly Inouye-Perez as our guest speaker at the
manager's dinner on Tuesday, July 13th.
Position:
Head Coach
Experience:
Fourth Year
Alma Mater:
UCLA, 1993
Kelly Inouye-Perez begins her fourth season as the head coach of the UCLA softball program in 2010. Inouye-Perez owns a 133-38 career record (.778 winning percentage) and led the Bruins to a Pacific-10 Conference Championship in 2009, as UCLA went 45-11 overall and 16-5 in league play. She was named Pac-10 Coach of the Year and earned her 100th career victory on Feb. 22 against Maryland.
In 2008, the Bruins went 51-9 and advanced to the Women's College World Series, finishing second in the Pac-10 with a 17-4 record. In her first season at the helm of UCLA in 2007, Inouye-Perez posted a 37-18 overall record and a 12-9 Pac-10 mark (t-3rd).
Over Inouye-Perez's three seasons, the Bruins have earned nine All-American awards, 15 All-Region honors and 25 All-Pac-10 accolades.
Inouye-Perez, just the third head coach in UCLA softball history, officially took over the reins from Sue Enquist on Jan. 1, 2007. Enquist announced her retirement as head coach on Sept. 26, 2006.
No stranger to the Bruin dugout, Inouye-Perez starts her 22nd-straight season in Westwood in 2010. She is a link to four decades of Bruin softball success, joining the UCLA softball program as a freshman in 1989. Inouye-Perez's apprenticeship is highlighted by six NCAA Championships and eight Pac-10 titles in her previous 21 years, spending five campaigns as a player and 13 as an assistant coach.
Over Inouye-Perez's 13 seasons (1994-2006) as an assistant coach, UCLA was 617-150-1 (.804) and appeared in the NCAA title game seven times, winning the NCAA Championship in the 1999, 2003 and 2004 seasons. The Bruins also won three Pac-10 titles during that span (1999, 2002, 2006) and in 2004 were named the National Coaching Staff of the Year by the National Fastpitch Coaches Association (NFCA).
Inouye-Perez's primary responsibility as an assistant coach was guiding the Bruin pitchers and catchers, a list which includes many of the most honored and recognizable names in collegiate softball. Behind the dish, where Inouye-Perez also starred as a three-time All-Pac-10 honoree during her playing days at UCLA, she helped mold and influence arguably the best catcher in the history of USA Softball in Stacey Nuveman. Under Inouye-Perez's tutelage, Nuveman became a three-time Pac-10 Player of the Year, four-time, first-team All-American and the NCAA's all-time single season and career home run leader.
Since the Pac-10 Conference began issuing a Pitcher of the Year Award, UCLA has been honored with two winners, Courtney Dale in 1999 and Keira Goerl in 2003. Among the other pitching highlights accomplished by the Bruins over her 13 years as an assistant included at least one All-American award earned by a UCLA pitcher in 12 of those campaigns, including DeeDee Weiman, four-time Olympian Tanya Harding and two-time Olympian Amanda Freed.
In addition, nearly every UCLA pitching record has been set during the time Inouye-Perez has overseen the Bruin battery and the top four pitchers on UCLA's career wins list, Goerl, Selden, Freed and B'Ann Burns, were coached by her.
Inouye-Perez was an exceptionally strong fielder behind the dish for the Bruins. She made her mark immediately as a collegiate player, earning first-team All-Pac-10 as a true freshman and second-team as a sophomore, leading the Bruins to the 1989 and 1990 NCAA Championships before receiving a medical redshirt in 1991 due to shoulder surgery.
She came back strong in 1992, picking up second-team All-Pac-10 honors as the Bruins once again won the national championship and finished with a 54-2 record, the fewest losses in a season in program history. Inouye-Perez also was named to the 1992 All-Women's College World Series Team, going 5-for-12 (.417) with four RBI during WCWS play. She wrapped up her career as a fifth-year senior in 1993 with an NCAA runner-up finish. Impressively, Inouye-Perez did not commit a single fielding error during her final two seasons.
Among the UCLA pitchers during her five seasons as a player were Lisa Longaker and Lisa Fernandez, both of whom were named to the NCAA's 25th Anniversary All-WCWS Team. During her UCLA career, Inouye-Perez played in 22 Women's College World Series games, a mark that is tied for third-best in UCLA history behind only Lisa Fernandez and Kristy Howard (23). Inouye-Perez graduated from UCLA in 1993 with a B.A. in psychology.
Prior to college, Inouye-Perez was one of the top players during her ASA days, winning four national championships, with the Panthers (1984, `85 and `89) and the Raiders (1986). She also competed on an international level in Japan in 1985 and in Peru in 1987 (Pan American Tournament) and followed her collegiate career with time playing on the NPF Pro Tour.
Inouye-Perez and her husband, Gerardo Perez, currently reside in Cerritos. Along with Kelly's exploits on the diamond, Gerardo competed as a catcher/DH for Cerritos College from 1988-90 and helped lead the Falcons to the 1989 Junior College National Championship. After a stellar career at Cerritos, he went on to compete at Loyola Marymount, earning first-team All-West Coast Conference honors his junior and senior seasons. He currently teaches health and coaches baseball at Gahr High School in Cerritos. The couple has two children, Michael (10) and Kylie (5).
New 2010 T-shirts. Click the image below to go to the store:



EACH TEAM MUST TURN IN AFTER every game
EXAMPLE: SCORECARD (fill in as shown)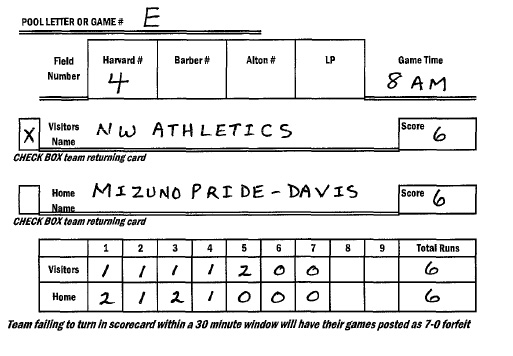 JULY 13, 2010 4:40 AM
WELCOME TO THE 2010 CHAMPIONS CUP
COME TO THE MANAGER'S DINNER AT THE HOST HOTEL HYATT REGENCY TO PICK UP YOUR COACHES PACKETS, SAY HELLO AND ENJOY HEARING
THE 2010 COLLEGE WORLD SERIES WINNER'S COACH - - - - - - - - KELLY INOUYE-PEREZ - - - - - - - -
SPEAK ON
"COMPETITIVE EXCELLENCE"
TUESDAY - JULY 13, 2010... 6:30 PM ----- HYATT REGENCY - IRVINE, CA
----------------
IF YOU ARE UNABLE TO PICK UP YOUR COACH PACKETS AT THE MANAGER'S DINNER, YOU CAN CHECK IN AT YOUR FIRST GAME AT YOUR SITE... LOOK FOR THE CHAMPIONS CUP LOGO FLAG FOR THE SITE DIRECTORS AT HARVARD... BILL BARBER... ALTON... AND LOWER PETER

-------------------------------------------------------
most important rule in the tournament EACH TEAM MUST TURN IN AFTER every game
EXAMPLE: SCORECARD (fill in as shown)
May 21, 2010
It is my distinct pleasure to welcome you to the 7th Annual Champions Cup, which is elite, multi-divisional fastpitch softball event being held from July 14 – 18, 2010 in Irvine, California. The Champions Cup is organized and operated by the Southern California International Softball Festival and all net proceeds from this tournament will be deposited to a fund that will distribute awards directly to athletes that require financial assistance in the continuation of their college education. 2009 scholarships have been awarded.
The Champions Cup Junior Olympic Showcase will include top Gold and 18-Under teams from throughout the United States and Canada. Teams entered include the 2005, 2006, 2007, 2008, 2009 ASA-USA Junior Olympic National Champions in both the 18U Gold and 18A divisions. Many of these teams will participate as preparation for their National Championship tournaments in August.
The Champions Cup will be hosted by the City of Irvine; centrally located in Orange County, California, and one of the prime vacation destinations in the United States. The Col. Bill Barber Marine Corps Memorial Park and Harvard Athletic Park will again serve as the primary venues for all tournament activity. We also want to thank the Irvine Chamber of Commerce Visitor's Bureau for their help in providing entertainment opportunities off of the softball field.
The Hyatt Regency of Irvine has agreed to return as our host hotel for the Managers' Dinner on Tuesday, July 13, 2010. The Crown Plaza (Irvine) continue to provide extra help and support in making the Champions Cup a success. The Irvine/Orange County Airport Hilton is also providing additional support and lodging for this year's Cup in addition to all the wonderful hotels listed in your welcome package and on our website www.championscup.org.
Disneyland continues to provide discounted tickets for our program for your enjoyment while you are our guest in Irvine, California.
Enterprise cars have partnered with The Champions Cup to providing discounted cars and vans while you are attending the Champions Cup. Please look for extra savings through this program.
The Champions Cup is also pleased that Ringor have chosen to remain as a founding sponsor of the Champions Cup. They manufacture and represent the finest equipment and apparel available in fastpitch softball and have been tremendous supporters of the sport for many years. The Champions Cup is proud to join with them in continuing a new tradition in fastpitch softball.
Jim Bollinger
Tournament Director