J.O. Showcase 16
J.O. Showcase 16 Forms
16u Map
Hotels, Parks, & Hospitals
16U Attendees
---
2011 16U Winner: Cal Lite-PN
2011 16U Order of Finish
---
July 10, 2011 12:19am
Please note on the Championship Bracket that game 4 on Sunday is 4a vs 7d and game 6 on Sunday is 3d vs 7b
---
July 8, 2011 10:49 pm
Welcome and hope that all of you "49 teams" attending have enjoyed the tournament so far. Please remember to turn in your scorecards as a few of you have been reminded........... Review the games under Results and your pool as the website is the official score and at the end of your games on Saturday, July 9, how you are seeded (1, 2, 3, 4, 5, 6 or 7 in your pool is when you will play using the schedule under Bracket 16). Sunday, July 10, starts the single elimination part of the tournament and if you lose your first game, there is a consolation game. CHECK THE BRACKET BOARD ON THE WEBSITE TO SEE WHEN YOU PLAY YOUR FIRST GAME. YOUR LAST GAME SCORES ARE CRITICAL ASAP!!! WE HOPE TO PUBLISH BY 11:00 PM AS 14 TEAMS WILL PLAY AT 8:00 AM ON SUNDAY, JULY 10. CHAMPIONSHIP GAME WILL BE MONDAY AT 12:00 FOR THE FINAL TWO TEAMS LEFT!!!
Please consult your tournament directors if you have any questions. Good luck and thank you for choosing to spend your time with us.
TOURNAMENT Tshirts as shown under the Store tab on this website are sold at the Sports USA tent with Kim Cass.
We have Champions Cup pins for sale at the check in point next to the snack bar.............Please be sure to patronize the snack bar as they have fabulous carne asada tacos, chorizo breakfast burritos, great caesar salad chicken wraps, pasta...
The kettle corn guy has carmel corn and shaved ice and of course kettle corn !!
NEWS FLASH!!...Robert Campbell and his staff from Softball Today magazine, www.softballtoday.com will be around Saturday, July 9, taking some pictures for his magazine. They have published our winners from the Champions Cup for the last couple of years...play well.... we will also have copies of his magazine for you at the tournament director's table..
Play your best games tomorrow and please stop by to say hi as it is always great to put a face with a name.
---
July 7th, 2011
2011 (16U) Parking Guidelines
Parking is available at all tournament sites on a first-come, first-served basis and please obey all parking restrictions and courtesies. Maps can be viewed online at www.championscup.org. NO MOTOR HOME/RV OR OVERNIGHT PARKING IS ALLOWED AT ANY CITY FACILITY. They must park off site at facilities that have no restrictions as parking spaces are limited at all parks listed. The following are additional items specific to each tournament location:
[1] Harvard Community Athletic Park
Parking is available in the lots adjacent to the fields. Harvard's overflow is in the housing tract across Harvard, called College Park. Street parking is allowed on Poplar and Red Rock but not on Harvard Ave. ( Park here at your own risk ! )
[2] Colonel Bill Barber Marine Corps Memorial Park
(only as possible game contingency use instructions)
Parking immediately behind the Irvine City Hall (Parking Lot 1) and across the driveway adjacent to the child care center and Deanna Manning Stadium (Parking Lot 2) is restricted from use until 6:00 PM on Thursday - July 7, and Friday - July 8. Parking is available in these locations after 6:00 PM on these days and at all times on Saturday and Sunday. Barricade signs and staff at Lot 2 will be stating no parking even for tournament officials, umpires and volunteers without Champions Cup Parking Passes. Handicap parking is allowed in Lot 2 and some occasional drop off of players. Please be aware that uniformed Irvine Police Department personnel will be enforcing these restrictions.
Parking Lot 3, accessible from Harvard Avenue at San Juan, is available at all times. Street parking variance along Harvard Avenue on the west side of the street only, park side for safety reasons, is the overflow parking area.
---
June 25, 2011
COLORED WRIST BAND ID'S
The Champions Cup (16U) is pleased to introduce a new program to enhance visibility for unsigned/uncommitted players. Wearing these will help college coaches to quickly identify players they need to fill in respective years.
These are bright beautiful colors and signed players will not wear any wrist bands.
Each team has been sent this announcement and please refer to the Tournament Directors if you have any questions.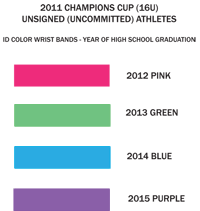 ---
March 30, 2011
WELCOME .. 2011 3rd Annual 16U Champions Cup Participants...
It is my distinct pleasure to welcome you to the 3nd Champions Cup (16U) tournament, an elite showcase fastpitch softball event being held from July 7 – 11, 2011 in Irvine, California. The Champions Cup (16U) is organized and operated by the Southern California International Softball Festival Champions Cup and all net proceeds from this tournament will be deposited to the same funds that will distribute awards directly to athletes that require financial assistance in the continuation of their college education.
The Champions Cup Junior Olympic Showcase will include top 16-Under teams from throughout the United States. Many of these teams will participate as preparation for their National Championship tournaments in August. Tournament Sheet Information and deadlines for filing of forms can be found listed under J.O. Showcase 16 on our website www.championscup.org
The Champions Cup (16U) will be hosted by the City of Irvine; centrally located in Orange County, California, and one of the prime vacation destinations in the United States. The Harvard Athletic Park and possibly Col. Bill Barber Marine Corps Memorial Park will serve as the venues for this tournament. The Irvine hotel community have collectively come up with very attractive pricing to show their support of our event. The Hyatt Regency of Irvine, Crown Plaza (Irvine), and Embassy Suites Irvine as well continue to go the extra step in continuing the quality of services tradition. Please view listing under Hotels/Parks Hotels 16U in www.championscup.org.
Jim Bollinger
Tournament Director