J.O. Showcase 18
J.O. Showcase 18 Forms
18u Map
Hotels, Parks, & Hospitals
Scholarship Fund
18U Attendees
---
2011 18U/Gold Winner: Corona Angels-Marty
2011 18U/Gold Order of Finish
---
Welcome to the 8th annual Champions Cup. We appreciate your attendance and if you have any questions or issues, please do not hesitate to contact us. It is alway great to put a face to a name. Allow for longer driving time due to road repair/construction on various roads by each park.
SCORECARDS... Please turn them in after each game, both teams immediately if possible !!
TOURNAMENT SHIRTS .. pick up at Harvard Park... see Sports USA... get it early so you get your size and color...
TOURNAMENT PINS ... at Bill Barber... located at check in next to Stadium ...
TRAFFIC ALERT !!! ...SPECIAL DRIVING CONDITIONS JULY 15, 16, 17
The northbound 405 will be closed for 10 miles between the 10 and 101 Freeways, and the southbound 405 will be closed for four miles between the 101 Freeway and the Getty Center Drive ramps. The closure is planned for the July 16–17 weekend — beginning in some sections on the evening of July 15 and lasting until the early morning of July 18 — and is taking place because of planned demolition work on the Mulholland Bridge as part of a larger freeway improvement project.
---
July 7th, 2011
2011 Parking Guidelines
Parking is available at all tournament sites on a first-come, first-served basis and please obey all parking restrictions and courtesies. Maps can be viewed online at www.championscup.org. NO MOTOR HOME/RV OR OVERNIGHT PARKING IS ALLOWED AT ANY CITY FACILITY. They must park off site at facilities that have no restrictions as parking spaces are limited at all parks listed. The following are additional items specific to each tournament location:
[1] Harvard Community Athletic Park
Parking is available in the lots adjacent to the fields. Harvard's overflow is in the housing tract across Harvard, called College Park. Street parking is allowed on Poplar and Red Rock but NOT
on Harvard Ave. ( Park at your own risk ! )
[2] Colonel Bill Barber Marine Corps Memorial Park
Parking immediately behind the Irvine City Hall (Parking Lot 1) and across the driveway adjacent to the child care center and Deanna Manning Stadium (Parking Lot 2) is restricted from use until 6:00 PM on Wednesday, Thursday and Friday – July 13, 14, 15th. Parking is available in these locations after 6:00 PM on these days and at all times on Saturday and Sunday. Barricade signs and staff at Lot 2 will be stating no parking except for tournament officials, umpires and volunteers with Champions Cup Parking Passes. Handicap parking is allowed in Lot 2 and some occasional drop off of players. Please be aware that uniformed Irvine Police Department personnel will be enforcing these restrictions.
Parking Lot 3, accessible from Harvard Avenue at San Juan, is available at all times. Creekside Alternative High School's lot for RV's and overflow parking on July 13-17th is open. Creekside is located at the corner of Barranca and Harvard Ave and the parking lot is behind the school with entrances off of Harvard and Barranca heading West.
[3] Alton Athletic Park
The parking lot at Alton is very small and is reserved for the use of tournament officials, umpires, and college coaches. Parking at Alton is available EAST SIDE of West Yale Loop Drive, between Alton and Bridge, on the north side of the street. Foot traffic to cross at cross walks only. DO NOT PARK ON WEST SIDE OF WEST YALE LOOP DRIVE. In addition, parking is available across the street at Woodbridge High School, between the wash and football practice field. Additional parking can be found at the alternative high school, located on the other side of the flood control channel.
[4] Lower Peters Canyon Community Athletic Park
There is a parking lot on Farwell and Culver and at the Beckman High School adjacent to the fields, and Farwell after Lower Peters Canyon driveway to curve where road becomes League.
---
June 25, 2011
COLORED WRIST BAND ID'S
The Champions Cup (18U/Gold) is pleased to introduce a new program to enhance visibility for unsigned/uncommitted players. Wearing these will help college coaches to quickly identify players they need to fill in respective years.
These are bright beautiful colors and signed players will not wear any wrist bands.
Each team has been sent this announcement and please refer to the Tournament Directors if you have any questions.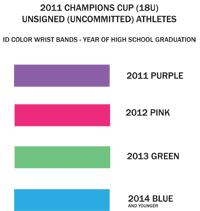 ---
March 30, 2011
It is my distinct pleasure to welcome you to the 8th Annual Champions Cup, which is elite, multi-divisional fastpitch softball event being held from July 13 – 17, 2011 in Irvine, California. The Champions Cup is organized and operated by the Southern California International Softball Festival and all net proceeds from this tournament will be deposited to a fund that will distribute awards directly to athletes that require financial assistance in the continuation of their college education.
The Champions Cup Junior Olympic Showcase will include top Gold and 18-Under teams from throughout the United States and Canada. Teams entered include the 2005-2010 ASA-USA Junior Olympic National Champions in both the 18U Gold and 18A divisions. Many of these teams will participate as preparation for their National Championship tournaments in August.
The Champions Cup will be hosted by the City of Irvine; centrally located in Orange County, California, and one of the prime vacation destinations in the United States. The Col. Bill Barber Marine Corps Memorial Park and Harvard Athletic Park will again serve as the primary venues for all tournament activity. We also want to thank the Irvine Chamber of Commerce Visitor's Bureau for their help in providing entertainment opportunities off of the softball field.
The Hyatt Regency of Irvine has agreed to return as one or our host hotels for the Managers Dinner on Tuesday, July 12, 2011. All of our wonderful hotels continue to provide excellent services and lodgings at attractive pricing to show support for all your super athletes of tomorrow ( www.championscup.org ).
Please accept The Champions Cup's special thanks to all of you for attending and supporting the sport and our endeavors. I can be reached via email at Jbollin24@att.net or Susan at sbollinger24@att.net with any questions or if we may be of any assistance to you.

Jim Bollinger
Tournament Director