J.O. Showcase 16
J.O. Showcase 16 Forms
16u Map
Parks & Hospitals
16U Attendees

July 7, 2012
WELCOME .. 2012 4th Annual 16U Champions Cup Participants...
It is my distinct pleasure to welcome you to the 4th Champions Cup (16U) tournament, an elite showcase fastpitch softball event being July 5-9, 2012 in Irvine, California. The Champions Cup is organized and operated by the Southern California International Softball Festival Champions Cup committee. The tournament is a SoCal ASA sanctioned event with modified ASA rules in effect. Net proceeds derived from the operation of the 2012 Champions Cup will be used to fund awards that will be granted to qualified applicants. The awards will be paid directly to the institutions they attend or will attend, to be credited toward the cost of their education. No awards will be granted to recipients if the receipt of such award is not allowed/legal in conjunction with any other forms of financial aid the recipient may be entitled to receive.
The Champions Cup Junior Olympic Showcase will include top 16-Under teams from throughout the United States. Many of these teams will participate as preparation for their National Championship tournaments in August. This year we are excited to include 3 international teams participating in our event, ISA New Zealand 16U with Craig Waterhouse, Nanaimo Diamonds with Bryce Johnson from Nanaimo, British Columbia, Canada and South Delta Invaders with Greg Baron from Delta, British Columbia, Canada. Please take the opportunity to network and support our new friends from other countries in making them feel welcome in the United States as they compete and participate in the Champions Cup.
You will be showcasing your athletes in 6 games of pool play. Your Wins and Losses, Ties, Runs For and Runs Against will count towards your seeding for the Single Elimination Tournament which begins on Sunday, July 8, 2012 with Championship Game at 12:00 on Monday, July 9, 2012.
!! EACH TEAM MUST TURN IN YOUR SCORECARDS AFTER EACH GAME!!
most important rule in the tournament EACH TEAM MUST TURN IN AFTER every game
EXAMPLE: SCORECARD (fill in as shown)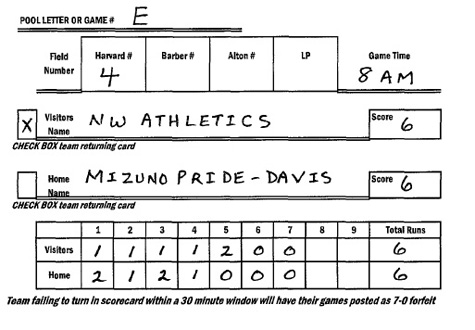 please visit Live Results Pools 16U A&B, C&D, E&F or G to see your scores LIVE... ... this is also where after your last game is played ... a short while afterwards your seeding will then be posted (BRACKET SCHEDULE) FOR WHEN YOU PLAY ON SUNDAY!! any questions, please see us at the "TENT NEXT TO THE SNACK BAR"
Jim Bollinger
Tournament Director